Skin Peels are used to remove the over-thickening of the dead layer of cells from the skin. This layer of dead skin cells contributes to wrinkles, fine lines, pigmentation and sun spots. With regular peels this outer dead layer is removed and the skin becomes firmer and smoother, even in colour and texture. A series of peels may be needed to obtain optimal results on a specific skin concern.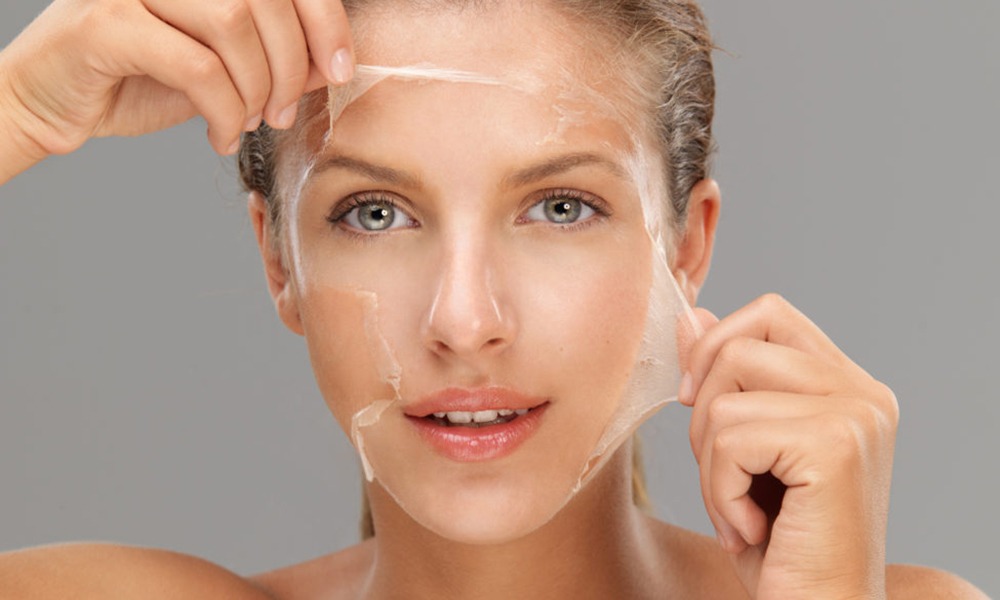 NATURAL PEELS
Green Peel
The natural, original GREEN PEEL® herbal peeling has been a worldwide success for more than 60 years. Green Peel® is a Herbal Peeling treatments using 10 powerful herbs that contain no chemical substances, and are free from parabens, mineral oils, PEG derivatives and animal products. Varying amounts of the herbal mixture allows the treatments to be tailor made for each individual client. This mixture is massaged into the skin using a special technique. The upper layers of the skin are removed by micro particles of the herbs. This increases the skin's receptiveness and stimulates the cell renewal making it the ideal problem solver for tired, dull skin as skin appears brighter and fresher.
CHEMICAL PEELS
We offer a wide range of chemical peels utilizing different ingredients and varying in strength to treat specific skin conditions. These peels are proven to transform, revive and rejuvenate!
Acne Peel
Salicylic Acid peels work deep into the pores, degreasing the pore and dissolving oil. These peels provide a fantastic treatment for acne as they control inflammation, bacteria, reducing acne breakouts , refining pores and improving acne scarring. A fantastic treatment to establish a clean and clear complexion.
Sensitive Skin Peel
Ideal for sensitised skin and skin conditions like rosacea, our 30% Lactic Acid Resurfacer is gentle while actively exfoliating for an even skin tone. Paired with Sodium Hyaluronate, this treatment is the ultimate cellular humectant. An unrivalled moisture magnet, crafted to replenish dehydrated, dull skin. Leaves the skin glowing.
Mango Peel
A delicious exfoliation treatment, excellent to help lighten the appearance of pigmentation and dark spots. This treatment uses acids, Orange Stem Cells and Mango Pulp as it evens skin tone and helps to repair all levels of hyper-pigmentation. Kojic Acid diminishes dark spots by reducing melanin production for a thoroughly brightened complexion.
Pumpkin Peel
40% Pumpkin Pulp Resurfacer is and advanced exfoliation treatment, excellent for age management, acne, & hyper-pigmented skin.The antibacterial effect of Salicylic Acid helps to prevent and treat acne for those prone to breakouts or experiencing perimenopause. Coupled with Lactic Acid, this treatment not only relieves post-inflammatory hyper-pigmentation, but also improves skin's tone and texture. Pimples instantly zapped! Pigmentation instantly looks lighter! Fine lines look softer!
Hibiscus Flower Mandelic Peel (NEW)
The Hibiscus Peel is non-irritating, natural form of AHA that utilises flower acids, which work with most skin types. This unique formula delivers potent antioxidant support, boosts collagen and elastin activity, fights the signs of ageing, providing a providing a "lifting" effect.
Glycolic Peel
This deeply exfoliating treatment uses a unique blend of anti-aging ingredients to retexture damaged skin. Using 40% Glycolic Acid to firm and Lilac Plant Stem Cells to protect skin from environmental pollution, this is an ideal treatment for those with significant UV damage. Skin looks healthy, and more radiant when it is deeply exfoliated.
TCA Peel
Our most comprehensive and potent anti-ageing peel, this treatment was formulated to combat severe photo damage, distended pores, deep wrinkles and dull, sagging skin. A rescue operation for distressed skin. We use a combination 7%Trichloroacetic Acid and 2%Salicylic Acid to penetrate the deepest epidermal layers! TCA peels leave your skin looking and feeling softer, smoother, and more radiant. A series of at least 3 TCA peels, 3-4 weeks apart for best results.
ZO® Ossential Stimulator Peel
This treatment was developed by world renowned skin care expert Dr. Zein Obagi. A quick and easy treatment that can be done in your lunch hour. Ossential Stimulator Peel treats all skin types and colour, with no downtime. It is gentle on the skin, but strong enough to make a visible difference. It stimulates cellular turnover to improve skin tone, texture and clarity, brightening and refreshing the face for a glowing, healthy skin.
ZO®Ossential Brightening Peel
This treatment was developed by a skin care expert Dr. Zein Obagi and is affectionately known as the "Red Carpet Peel" owing to the number of celebrities that avail of it before they have to look picture perfect for red carpet events and a total must for the bride to be. A combination of citric, salicylic and lactic acids to make a visible difference, treating all skin tupes with no down-time. The Ossential® Skin Brightening Sheet Masque, with arbutin and green tea,is applied to help inhibit pigment production, brighten and super hydrate the skin for a more youthful, dewy look.
FAQ
What is the downtime?
Each specific peel will have its own associated down time. Certain peels have no downtime whatsoever, and the effects of others can range from mild dryness and flaking to visible peeling and shedding of skin. Your therapist will discuss the downtime of any peel with you prior to the appointment so you can plan accordingly.
Is it painful?
Each peel will have a slightly different sensation on the skin. Some will provide only a very mild sensation of warmth on the skin while others might produce a feeling of intense heat. Others may have a prickly or "antsy" feeling on the skin. These sensations are very short-lived and will generally only last for the duration that the peel is on the skin.
What will it feel like afterwards?
Your skin may appear slightly flushed following a peel. Over the course of a few days following the peel the skin may feel dry and there may be some flaking. In the case of a mild peel this will hardly be visible, with a deeper peel it may be noticeable peeling. Your therapist will advise you on post-treatment care to minimise any adverse effects.
Will repeated peels thin my skin?
No, because repeated peels stimulate your skin to produce collagen, increasing dermal volume, which is normally lost as you age, leading to fine lines and wrinkles.