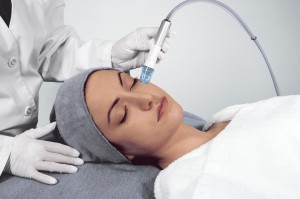 Microdermabrasion is a non-invasive method of improving the skin's texture and appearance with no down-time. The therapist uses a hand piece which emits fine crystals onto the surface of the skin, mixing gentle abrasion with suction to remove the dead outer layer of skin. This technique exfoliates and gently resurfaces the skin, promoting the formation of new smoother, clearer skin. By removing superficial layers of the skin, microdermabrasion allows new skin to appear and even stimulates the production of new skin cells and collagen.
Microdermabrasion can be used to successfully treat:
Rough skin texture
Certain types of scarring
Uneven pigmentation
Age spots
Fine lines
Open pores
Dull, devitalized skin
Microdermabrasion is usually performed on the face, neck and décolleté, but can be performed on any part of the body (such as the back of the hands).
After even one treatment you will notice improvements in texture, and the appearance of refreshed looking skin, but as with other skin rejuvenation techniques, a series of treatments is recommended to reduce or remove fine wrinkles and unwanted pigmentation.